" Rinse Master Pro H-D"
US Patent

clean scuba gear, rinse scuba gear, store scuba gear, scuba gear cleaner, scuba gear rack, scuba equipment, cleaning, rack, rinse, store, diver, wet suit, gear, sports, commercial diving, octopus, nitrox, rinse master pro, bcd, weights, padi, naui, nase, DAN, new, scuba gear, scuba
Currently sold throughout the Continental United States, Alaska, Hawaii, Puerto Rico,
Canada, Grand Cayman, Australia, South Africa, Jamaica and Mexico.
It's Fast, Easy, and Affordable!
Best of all,
it makes what used to be a tedious job FUN!
Isn't that what your TOTAL DIVING EXPERIENCE should be?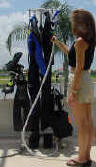 (Click on photo for larger view)
AT LAST . . .
No more hassles with cleaning your scuba gear...
Just hang ALL of your scuba gear straight from your dive bag
onto the Rinse Master Pro H-D
and in less than 5 minutes you'll have
completely rinsed inside and out gear that's already stored!
It even flushes the inside bladder of your BCD for you

(Includes 4 "Twin Wheel" Caster wheels to roll just about anywhere you want!)
That's right...
In less time than it takes to fill up a tub... your cleaning is done!
No more bending over a tub... soaking & washing each piece!
Saves money... no more anti-stink supplies, hangers, etc.!
No more scattered dive gear... laying around trying to dry!
Didn't our Great Grandparents do laundry that way years ago? <Grin>

(Click on photos below for larger view)

It's Quick and Easy
Place the Rinse Master Pro H-D in a tub, shower, patio or driveway and connect to a sink or hose.

Hang your scuba gear right out of the bag onto the Rinse Master Pro H-D and turn on the water.

While the Rinse Master Pro H-D is rinsing your Gear from the inside out, invert the BCD on the Rinse Master Pro H-D, (allowing it to drain automatically without holding or shaking,) and finish with a quick spot rinse to the outside of your gear with the included hose and spray nozzle!

That's It!
Leave your gear hanging to THOROUGHLY DRY before your next dive!
No more odor or mildew!
With it's convenient "Twin Wheel" Caster wheels, roll it anywhere you want!
The Rinse Master Pro H-D has built in hangers properly angled and positioned, specially designed sprayers, emitters and internal restrictors for proper water flow, plus ample storage for your:
Wet Suit

Skin

BCD

Fins

Boots

Gloves

Regulator

Computer/Gauges

Mask

Snorkel

Weight Pockets

Weight Belt

Accessories

Dive light, Net, etc
......Rinse Master Pro H-D shown above......
Leave assembled or use Quick Spin On & Off Unions for space saving storage or travel!
No tools required:
Takes less then 60 seconds to assemble or disassemble.
Dimensions Assembled:
75.25" Tall x 24" Wide x 17" Deep
Dimensions Disassembled:
Easily fits in a mesh dive bag like the one shown below with
dimensions of approximately 28" x 16" x 16".
Weight:
Less then 16 lbs... with attachments!
Features
Works inside or outside of any home or apartment!
Flushes the inside BCD Bladder. Just invert BCD to drain. No more holding or shaking!
All scuba gear is rinsed properly! (Adjustable water pressure.)
Lets scuba gear dry thoroughly, eliminating mold and mildew!
Stores scuba gear together! Eliminates clutter and forgetfulness.
Travel ready! Assembles or Disassembles in less then a minute! Great for Dive Trips!
Stores anywhere! (closet, garage, patio, or tight spaces)
Includes 4 caster wheels, hand sprayer and a 6' hose at no additional charge!
A true "One-Step Process"! Saves time in gear sorting, rinsing, drying and storing!
Best of all... It's inexpensive and Fun & Easy to use!
Rinse Master Pro H-D, (Heavy Duty Model,) only $299.00 plus shipping & handling.
Florida residents please add 6% sales tax to your order.
Optional Accessories.

Gear/Travel Bag makes your Rinse Master Pro H-D Travel Ready. Great for Dive Cruises! $ 29.95
The Universal Faucet Attachment allows your Rinse Master Pro H-D to connect to just about any sink faucet! $7.95
Extra 6 foot hose to connect to sink/faucet. $5.95
My Scuba Buddy, Inc.
3657 Miramontes Circle, Wellington, FL 33414
Contact us by email at:
Webhelp1@MyScubaBuddy.com
Copyright 1999-2014 My Scuba Buddy, Inc. All rights reserved.
US Patent